Priory Models Avro Lancaster
Here is the build of a Radio Controlled Avro Lancaster Bomber which I've rebuilt twice and modified a few times.  Whenever I fly her the sight of those 4 engines and twin tail in a banked turn is just majestic.
The  Lancaster was a World War two bomber used by the RAF.  It didn't start well though.  Originally it was a twin engine bomber called the Manchester with Rolls Royce Vulture  engines.  These were very troublesome and gave the Manchester a bad name.  Roy Chadwick knew he had the basis of a good aircraft so he modified it to take 4 Rolls Royce Merlins and had a winner and probably one of the best bombers in World War two.  It was loved by all that flew her.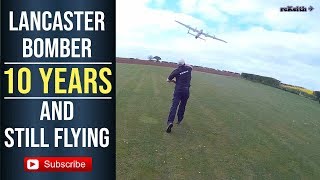 RC Avro Lancaster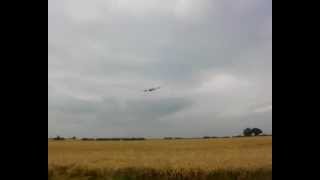 Avro Lancaster Brushless Conversion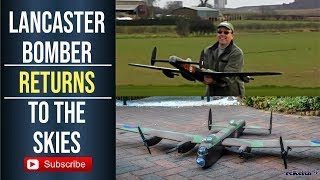 Bouncing Lancaster returns to the skies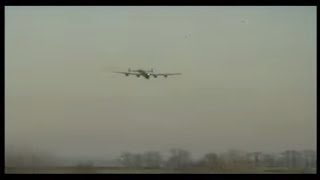 RC Avro Lancaster Crash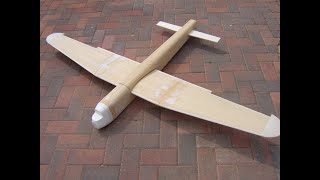 RC Avro Lancaster first flight captured on video in 2006
RC Avro Lancaster

Flying at the Rotherham and District Model Flying club 2017

Avro Lancaster Brushless Conversion

Converted to brushless motors

Bouncing Lancaster returns to the skies

After the crash her she is flying again .

RC Avro Lancaster Crash

This was the crash caused by a faulty speed controller

RC Avro Lancaster first flight captured on video in 2006

RC Avro Lancaster first flight captured on video in 2006
The Priory Models Radio Controlled Lancaster is intended for 4×400 electric brushed motors  and has 72″ wingspan.   My first two were brushed versions but my latest is powered by brushless motors and Lipo batteries Here's the phone number 01642 483505, they're not
on the web.
Radio controlled Lancaster from other suppliers
Priory Models are not not the only option if you want to build a Lancaster.  Green Air Designs did make a depron kit but looks like its not available anymore.   The renowned Tony Nijhuis kit  http://www.tonynijhuisdesigns.co.uk/Lancaster72.htm
Build
The Priory kit is about £80 and on the whole is not bad. However the fit of some parts could be better. For quality I'd give it 7 out of 10.
Covered in brown parcel paper and PVA glue and then painted with acrylic Tamyia and B&Q emulsion paints.
This was my first one, the motors were 400 brushed 6.0 Volt and batteries were 10 cell NiMnh pack of around 2000mAH capcity. Flight time was around 5-7 minutes, doesn't sound long but its not the sort of plane you chuck around. Its very easy to fly and launch.
First flight was a complete success, third flight was as no so good. Here's the crash
A faulty receiver was the culprit, partly my own fault but that's a long story. I now fly it on 2.4GHz Spektrum
On the 20th Sept 2009 the Lanc crashed very heavily.  I was gutted but I think it was caused by an overheating speed controller.
Prior to this I'd always used a separate receiver battery and had no issues.  I decided to dispense with this as I was very confident on 2.4Ghz.
The speed controller heat shrink has partially melted so I fairly certain this was the cause of loss of signal.
The crash was very heavy and very little survived, but I had a second less damaged Lancaster wing, so I rebuilt her.  This time I installed brushless motors and ran a separate receiver battery.
Dec 2009 – Ordered a new fuselage from Priory.  Motors are  400 replacement that BRC Hobbies did  a combo deal on .
Here's some photo's of the build and the Lanc at my flying club. Rotherham & District Model Flying Club
Brushless conversion
Here's the start of the wing repair and conversion to brushless motors.  I've managed to get a 400 replacement combo deal from BRC hobbies which included speed controller motor and a 8×4 prop.  The motor is a Towerpro 2408-21T rated at 1750Kv and the speed controller is 15Amps.  I  use 4000mAH Lipo.  On the 8×4 props the BRC say it will give 145 Watts on 3S Lipo so I should have ample power with 4 of them.  On brushed motors I think it was pulling about 250 Watts for all four which worked out about 60-70 watts per pound.
Some photos of the nacelle being converted to mount brushless motors.  I've also put a hole in the rear and one in the front part on the nacelle to allow air through for cooling
Maiden flight was a complete success .  Batteries are 2x4000mAH 3S.  I did intend to use smaller but I needed to add weight  for balance so I used the 4000mAH batteries and the  balance was spot on with then.  7 minute flight only used 20% of the batteries, had a second flight on the same batteries.
She's been built with the markings of 207 Squadron  the Lanc flown in mostly by Wallace Macintosh the rear gunner who survived 55 missions and his the highest scoring rear gunner in the RAF during the second world war.  I read his biography during the build and decide as a tribute  to Wallace to finish her in the markings of his Lanc.  Highly recommend this book "Gunning for the enemy"